A novel written in the English language with a name like An American Marriage conjures up a specific set of broad outlines: post-war optimism, masturbation in the suburbs, the disappointment of life, familial breakdown, that sort of thing. "White people in Connecticut getting a divorce," author Tayari Jones supplies dryly, from the fringe of a migraine, when I begin to ask her about the title of her newest novel. It was a yoke she was keen to sidestep, even though she was the one who suggested it in the first place.

"I have a cat, Canela," she explains as we sip ginger ale in her Brooklyn apartment on a very wet January afternoon. "And I was like, 'Canela's going to write a memoir called American Feline.' I was laughing, and I said, 'Let's call it An American Marriage.' It sounded so square."
But other suggestions were rejected or met with resistance; Jones might have been joking, but her editor certainly wasn't. "I had never heard of myself as American without 'black' or 'African' in front of it," says Jones. She brought the proposed title up with her mentor, author Pearl Cleage, who told her knowingly, "Yeah, that 'American' thing is deep, isn't it?"
Her editor at Algonquin Books, Chuck Adams — this would be her first male editor — wrote her a letter in an attempt to convince her to use it. "I could hear him in my head as I read," says Jones. As she recounts it in the intonation of a serious book editor, a storyteller's glint surfaces in her eye. "If you feel the title honestly does not represent the book, I will respect that. But if you are coming from a place where you don't feel that your novel is big enough to carry the weight of such a title, if you don't feel that your characters are representative of an American experience, thus earning the title, I do beg you to reconsider."
Jones also recalls Cleage's words on the matter. "She said, 'We built it. This is ours. Take it. That's your title. This is your book.' And I just decided to step into it."
The title fits the scale of Jones' fourth book, which sits neatly under the umbrella of what used to be unsneeringly called the Great American Novel. The story records the marriage of Celestial and Roy, a golden, SpelHouse-educated Atlanta couple, from their stormy beginning to the shock of sudden incarceration swooping down to steal their gleaming future, and beyond. Jones had been aware she wanted to write A Big Story, and, on a fellowship at Harvard, was conducting research into mass incarceration, a long-term interest of hers. Still, a way in eluded her.
"I'm happiest when I'm telling a story of two people, or a family," she says, "and I had all this really disheartening and enraging information, but I had no real story." During a trip home to Atlanta, she visited the mall, and in the food court was handed an eavesdropper-novelist's dream: an arguing couple.
"They were clearly, as I say, in love and in trouble," says Jones. "The woman was very beautifully dressed: cashmere coat, the whole nine, and the man… He looked fine. And she said, 'Roy, you know you wouldn't have waited on me for seven years.' And he said, 'I don't know what you're talking about — this shit wouldn't have happened to you in the first place.' They were both right — they weren't singing from the same hymnal, you know? She's speaking about reciprocity, and he's saying that this question of reciprocity is moot, because our situations are not the same." The narrative conflict was born then and there.
If Silver Sparrow was mainstream America's introduction to Tayari Jones, her newest novel could be the one to propel her into its heart.
"I got this idea to write about a woman whose husband has been incarcerated, and I decided to make him wrongfully incarcerated because I didn't want the question of her decision to be whether he was worthy of her sacrifice — I wanted to interrogate the idea of sacrifice." What is upended most strikingly in the novel is the idea of what we owe the people whom we call family, by blood or by choice — the gentility of our kindness, the blunt force of our pain, and the tenderness of our friendship.
Jones' 2011 novel, Silver Sparrow — which had the memorable opening line "My father, James Witherspoon, is a bigamist." — became a book club staple, ending up as an editor's pick in Oprah's O magazine. (This time around, An American Marriage has been selected for Oprah's Book Club itself.) It placed Jones' words in the hands of a bigger audience than her previous novels had, even as Jones acknowledged her base. "Nikki Giovanni told me to take care of your black female readers because they will take care of you," she said in a 2014 interview, and Jones' novels do take that care.
As in the work of Anne Tyler (a writer Jones loves, and who also favors one city, in her case Baltimore, above others in her work) the apparently "gentle" themes of Jones' novels — the interior lives of women, explorations of the American family and relationships — can be deceptive, as can the simplicity of her prose. Jones places black people at the center of her stories (without making them elaborate race ambassadors) while doing subtle work in parsing and interrogating those intimate themes.
And now An American Marriage, with its ruminations on masculinity, married life, and what constitutes marital debt, manages the trick of arriving at the right time while also feeling utterly untethered to just one era. If Silver Sparrow was mainstream America's introduction to Tayari Jones, her newest novel could be the one to propel her into its heart.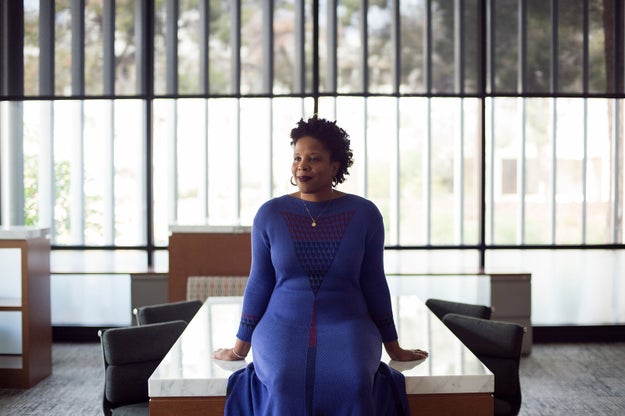 Jones pictured at University of Nevada, Las Vegas, on Thursday, Jan. 18.
Bridget Bennett For BuzzFeed News
Tayari Jones' apartment lives and breathes her preoccupations. A large quilt by Georgia artist Phyllis Stephens hangs prominently, and in one nook next to an armchair sits a black rotary phone on a low table. (Jones tells me she enjoys slamming it down, as required.) Dotted around the living room are no fewer than four typewriters, in shades of pink, aubergine, blue, and green; there are even more in her office at Rutgers-Newark University, where she is an associate professor in the MFA program, and another in Nevada, where she currently half-resides as the Shearing Fellow at the Black Mountain Institute, named for the first female Supreme Court justice in the state. (Jones is a collector who shares a typewriter doctor with Tom Hanks, and writes her manuscripts on her trusty Corona.)
From an overloaded bookshelf, Jones pulls down a first edition of Alice Walker's Meridian ("That's not what we think Alice Walker's books look like, is it?"), first editions of Mildred D. Taylor's Roll of Thunder, Hear My Cry, and Toni Morrison's The Bluest Eye and Sula, delighting in my cooing delight over the sumptuous W. Minor design of the dust jacket. I spot books by Percival Everett, Roxane Gay, and Lesley Nneka Arimah (from whom, she tells me, she used to buy "intricate, hand-beaded barrettes on Etsy"). Next to the bookcase is half of a navy blue, clothbound set of the Schomburg Library of Nineteenth-Century Black Women Writers. (The other half lives with her friend, playwright and MacArthur genius grant recipient Branden Jacobs-Jenkins.) On the wall hangs a trio of Rayo & Honey canvas pennants, including one that reads, "You alone are enough."
Jones likes her books to tell the stories of where she's from. "You think about John Irving; everyone in John Irving's books go to Exeter. He's got his Exeter, and I've got my SpelHouse," she says, smiling. The urban South, she says, "is the bedrock of everything I do." Jones' Atlanta is distinct from other Southern writers' sensibilities, because it is based so much on her own perspective, as opposed to an established folklore.
"There was no behavior you could have that would be ascribed to 'whiteness,' because we couldn't imagine it. We grew up feeling in the center."
"I know that people look at the American South as shorthand for Negro oppression, the capital of which would be Mississippi," she says. "But the thing about the South is that there are also so many black institutions. I grew up in an all-black privileged environment, and that is the world in which I write, where anything you can imagine anyone doing, you could easily imagine a black person doing it. I never had that moment of 'I didn't know black people could be writers!'"
She speaks of a "cultural completeness" where there was little to no grappling with racial identity. "No one ever called anyone white when I was growing up 'cause we didn't have white people as an abstraction. There was no behavior you could have that would be ascribed to 'whiteness,' because we couldn't imagine it. We grew up feeling in the center."
Jones' first novel, Leaving Atlanta (2002) was a coming-of-age story; her next two, infertility and friendship drama The Untelling (2005) and Silver Sparrow (2011), the darkly humorous tale of a bigamist's daughters, were also set at home. As a tween, Jones spent one year living in Zaria, northern Nigeria. ("My father applied for a Fulbright, and you know people would say, 'If Reagan gets elected, we're leaving the country!'? They left the country.") Apart from that, she was born and raised in solidly black middle-class Atlanta. The South is where she is rooted, and her experience of it is one she never sees enough of in literature.
"That's the world I know. Like, my mommy has a PhD, my daddy has a PhD, and met in graduate school," she says. "I know a whole bunch of other people whose mommies and daddies both have PhDs. I never thought, like, I am the rare Negro with parents who can both read and write dissertations. When I was a child, I thought 'graduate student' was a kind of cousin. I thought everyone had them."
In 2014, she wrote a piece for Tin House about her experience at HBCU Spelman College, in which she recalled that "we felt that were exceptional, but we never felt that we were exceptions." Around her apartment are vestiges of Spelman life: a photo of her graduating class that she sometimes consults when naming her characters; another picture of her with her "Silver Sisters" of the class of 1991; a Torpedo typewriter in Spelman blue, named Sophia for the founder of the college; and with a bugle sound, she unzips her cardigan to reveal she's wearing a Spelman T-shirt.
She tells another story of a visit to her alma mater and asking for a recommendation for a doctor to help with a cold, "and the chair of the department — she's in her nineties now — she said, 'You know, we have a really good doctor. He didn't go to Morehouse...' and then she paused! '...but he went to Harvard, and I think he's really good.'"
Jones is laughing really hard now. "That's that black Atlanta bourgeois life. I'm critical of it, of its respectability politics, of what I call that "gentle patriarchy." But I also love things like a 90-year-old black lady talking like, now don't hold it against him that he went to Harvard, he's trying. And I feel that is a part of the South that is very seldom discussed: the benefits of the Southern experience. Not feeling like an interloper in spaces of prosperity."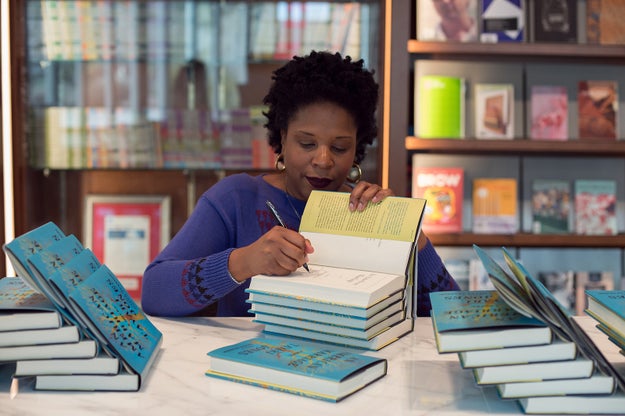 Nonfiction writer Tayari Jones signs copies of her novel An American Marriage at University of Nevada Las Vegas's Black Mountain Institute on Thursday, Jan. 18.
Bridget Bennett For BuzzFeed News
It is important to Jones to normalize the stories of ordinary black American life — from the mundane to the marvelous — without reducing them to allegorical shorthand. "It's a terrible burden to be understood symbolically and to understand oneself as symbolic. That is such a weight," she says. More pressingly, it is a burden that makes characters tedious. That's because, as Jones puts it, "there's very little room for ambiguity when people are symbolic. I always understood myself individually and I extend that to my characters."
In Silver Sparrow, the beauty of dark-skinned Dana and her mother, Gwendolyn, is remarked upon but generally unremarkable. "I didn't have someone say, 'It's amazing that you're so dark and you're a stone-cold fox!' I just let their foxiness just be gospel," she says, laughing. "But I also made it where their beauty can only buy them so much." Once, a group of younger readers asked what the book was saying about black women. Jones, who has never been married herself, replied, "I think Silver Sparrow indicates that black women are under an awful lot of pressure to be in reproductive, heteronormative marriages, of course, but everyone responds differently to being under these norms."
In An American Marriage, Celestial and Roy's marriage is still in its infancy when the tragedy of mercurial American justice befalls them, and through a mix of flashbacks, epistles, and changing perspectives, Jones weaves a story that combines elements of Homer's ancient Odyssey — Celestial as Penelope, that endlessly faithful and renowned weaver with an absent spouse, gently unraveling in a different way — with a very modern American tale of wrongful incarceration as visited upon a black body.
"I always understood myself individually and I extend that to my characters."
"I was thinking of Penelope when I wrote Celestial," says Jones, who made her character a fabric artist to evoke that inspiration. Like Odysseus, Roy's own personal narrative assumes Celestial's unyielding support — and any deviation from what Roy considers that to look like is taken as a personal slight. "In this case, Odysseus comes home and Penelope not only has not been unweaving her tapestry, she's become a famous tapestry artist, and she's in the tapestry business. Penelope Ringgold!"
All of Roy's experiences are inevitably colored by his being a black man, first in a city like Atlanta, and secondly in America at large, two parallel but distinct realities. Jones' book is a subtle exploration of that specific dichotomy, and the privileges Roy has been afforded over and over again, which explain his expectations. In his day-to-day life Roy is celebrated and loved, by his parents, his teachers, and his lovers, and even finds a semi-comfortable place for himself when he winds up in prison. "So even though he feels completely marginalized and disenfranchised as a black man in America, as a black man in black America?" Jones takes a sharp breath and fixes me with a look that roughly transmits: The world is his oyster.
Telling Roy's story and how he came to be the way he is through both his own trajectory as well as the other characters allowed for texture: The inclusion of college friend Andre's perspective keeps Roy from being "The Black Man" of the novel. "I loved having Andre in the book, too, because they could interrogate this idea," says Jones, "and it takes some of the tension and the weight off of Roy as a symbolic figure of what black men go through today."
As is Jones's wont, An American Marriage is about the outskirts of female generosity and sacrifice, and the men who have come to expect it as a matter of course. Roy's vision of masculinity is skewed, argues Jones, but it's hard to shake. His idea that manhood and personhood itself are tied up in dominance — over Celestial, over Andre — is remolded over the course of the book. Empathy, which Roy seems to have no time for, is not a luxury but must be at the core of his very humanity. The contents of one letter from prison reads, in its entirety, "I am innocent." Celestial's reply is an almost perfect echo: "I am innocent, too."
Roy's story, then, is one of growth, maturation at the expense of so many others, and Jones acknowledges that. "It's not until the end that Roy realizes that he's lived his life due to the vast generosity of women. He had never considered that until page 300, you know?" Jones tells me, with a sigh, that she and her lead character were "not on great terms throughout, and we had to spend so much time together."
When I tell her I struggled to like him, her face lights up with an observation. "I wonder if it's generational," she muses. "The younger women who've interviewed me have been a lot more for Celestial and the older women have been like, 'I just struggle with her.' I'm just... what are you struggling with?" She laughs.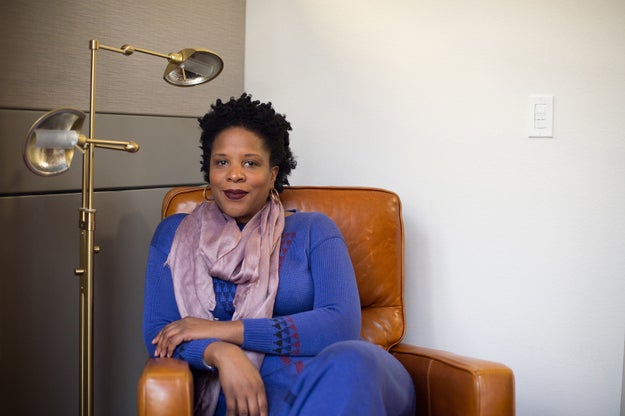 Jones on Thursday, Jan. 18, in Las Vegas.
Bridget Bennett For BuzzFeed News
Read More